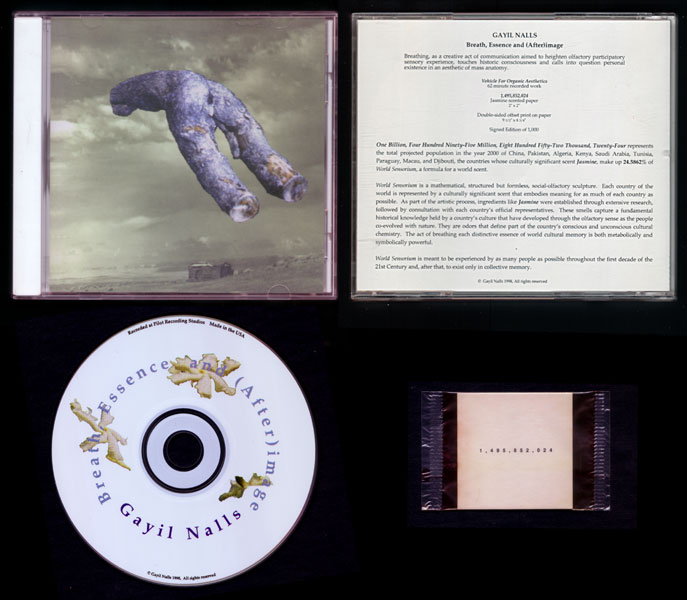 Breath, Essence, and (After)image
CD Edition of 1000, 1998
Vehicle for Organic Aesthetics
62 minute recorded work
1,495,852,024
Jasmine Scented Paper, 2" x 2"
Double-sided offset print
[detail]
, 9.5" x 4.75"
One Billion, Four Hundred Ninety-Five Million, Eight Hundred Fifty-Two Thousand, Twenty-Four represente the total projected population in the year 200 of China, Pakistan, Algeria, Kenya, Saudi Arabia, Tunisia, Paraguay, Macau, and Djibouti, the countries whose culturally significant scent Jasmine, make up 24.5862% of World Sensorium, a formula for a world scent.
World Sensorium is a mathematical, structured but formless, social-olfactory sculpture. EAch cou ntry of the world is represented by a culturally significant scent that embodies meaning for as much of each country as possible. As part of the artistic process, ingredients like Jasmine were established through extensive research, followed by consultation with each country's official representatives. These smells capture a fundamental historical knowledge held by a country's culture that have developed through the olfactory sense as the people co-evolved with nature. They are odors that define part of the country's conscious and unconscious cultural chemistry. The act of breathing each distinctive essence of world cultural memory is both metaboplically and symbolically powerful.
World Sensorium is meant to be experienced by as many people as possible throughout the first decade of the 21st century, and after that, to exist only in collective memory.